Gallery Categories and Tags
In the following video, we explain the difference between categories and tags, and how to add them to WordPress blog posts.
Categories
A category is one of the predefined taxonomies in WordPress. It is used to sort and group content into different sections. A website publishing content on a variety of topics can divide their website into sections using categories.
Example: A news website can have categories for articles filed under News, Opinion, Weather, Sports, etc.
If no category is specified for a post then the post is automatically filed into the default category. In a new WordPress installation, the default category is 'Uncategorized'. A website administrator can change the default category from Settings -> Writing screen. A WordPress post can be filed under multiple categories and can have both categories and tags.
How to Add Categories
You can create a category in WordPress while writing a post. There is a category meta box on the post editor screen with a list of existing categories. You can file your post in existing categories by checking the box next to the category name. You can also create one by clicking on the + Add New Category link.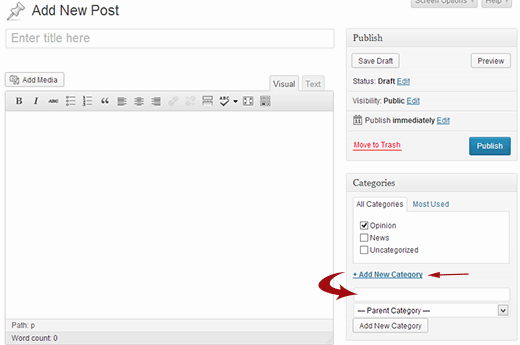 You can also add a category directly from the Posts -> Categories screen. Provide a name, and if you want you can add a Slug, which is a URL friendly name in lowercase and can only have letters, numbers, and hyphens. If you are creating a child category then choose a parent category. Describe your category and click on the "Add New Category" button. Only the category name is the required option to create a category and you can skip slug, parent, and description field if you want.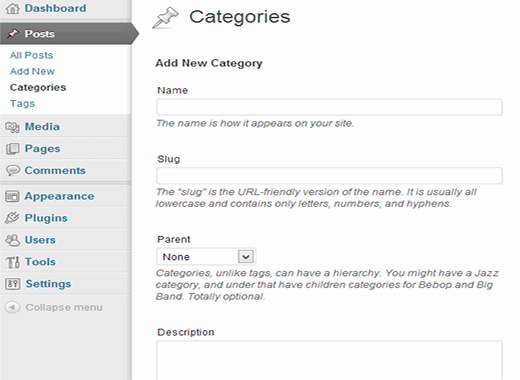 How to Edit Categories
Categories can be edited from Posts » Categories screen. Move your mouse to the category you want to edit and then click on Edit link. This will open the editor where you can change name, slug, add or remove a parent category, edit or add a description.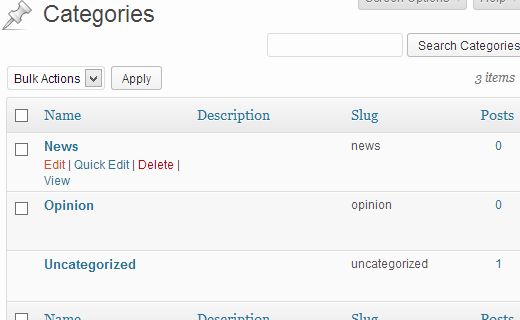 You can also delete categories from this screen. Deleting does not delete posts filed under it. Instead, if a post is not filed into any other categories, then WordPress would automatically file the post under the default category. It is also important to know that you can not delete a default category. To delete a default you first need to assign the default status to some other category.