Creating a Menu
Website Menu, or sometime referred to as Website Navigation, Menu Navigation, Menu, Page/Tabs Tabs, etc.
Below we have listed out all the necessary steps you need to take in order to create your Menu.
Step 1 – Create Menu
Once you have added all your page content, Go to Appearance > Menus, and then create a new menu. On the left hand side you will see pages, posts and the other items you can add to the menu: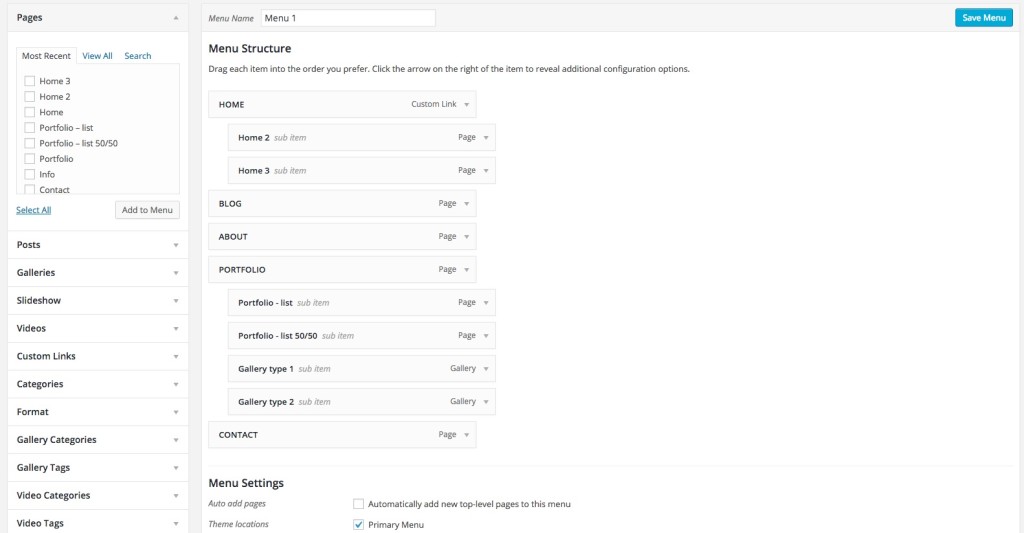 Step 2 – Add Items
You can select any items you want, and then click Add to Menu.
If you cannot see all the items, scroll to the top right and find Screen Options, drop down the menu and select any items you may want to add to your menu.

Step 3 – Set as Main Menu
After the menu is created you need to activate that menu as the 'Main menu'.
NOTE! This is only relevant if it is going to be your main site menu. If creating a custom menu for widget areas and sidebar you can ignore the below.
Go to Appearance > Menu. Scroll to the bottom of the menu editor window.
In the section titled Menu Settings > Theme locations, click the check box for the location where you want your menu to appear, Main Menu.
Click Save menu once you've made your selection.

Step 4 – Learn More
You can read more on creating WordPress menu items from the WordPress codex here.
Note! Each time the theme is switched it may be necessary to check this option again if the theme is activated for the first time. Many users are confused why their menu disappears or changes when they switch themes. The solution is simple, just activate one of the menus for the desired location.