Instagram feed via your Footer Layout
There are basically 2 types of Instagram Feeds you can add to the Footer of your site.
1. Dummy Instagram Feed – these are images you upload from your computer (make sure to size them consistently)
2. Live Instagram Feed – connect your Instagram Account and images will update automatically.
For Live Instagram Feed
You can access your footer settings via Flotheme → Footer → Instagram Area, and scroll till the Flo Instagram Selector section. Choose the account you want displayed as default from the dropdown menu. This though allows you to showcase only 1 account at a time.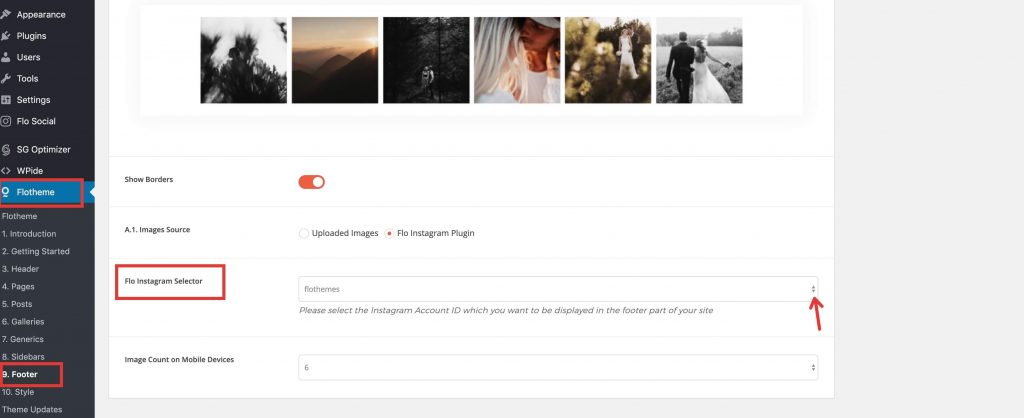 Custom Footer Layout – applies to Cannes, Evora, Fiji 2, LVY 2, Milea, Narcisse, Porto 2, Rosemary 2 only.
If you have one of the themes that include the Custom Layout option inside the footer block, you can easily tweak what account is displayed for each page individually. Simply enable the Custom Layout option inside your footer block and choose the needed account from the dropdown menu. This is particularly helpful if you offer various services or products, have separate pages for them, and individual Instagram accounts.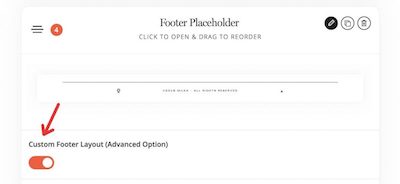 After enabling the Custom Footer Layout, go into the Instagram Area tab to find the dropdown menu under the Flo Instagram Selector where you can select different account to be displayed only on the page you are editing. For example, you may have a separate account for Family Photography that you want to be displayed on the page of your site that is dedicated to this area of your business.