Global Video Post Settings
If you are using a Flothemes site, you have two ways to manage a Video Post Layouts:
1. Global Video Post Layout – this will be applied to all Video Posts throughout the website.
2. Custom Video Post Layout – this will be applied to a chosen Video Post only.
By going to Flotheme – Videos, you will find an area dedicated to the Video Post Layout management.

here you will find five tabs:
How-tos – with video tutorials and links to documentation
Global Layout – here you can create your own Default Video Post Layout
Templates – here you will find all the Pre-built Video Post Layouts
Preview Options – here you will find settings related to the Video Listings Page
Miscellaneous – here you can change the Video Post URL Slugs
The three tabs we are going to cover in this article are: Global Layout, Templates and Preview Options
We also recommend taking a few minutes to watch the Video Post Settings video.
Templates
Here you will find several predefined Video Post Layouts to choose from. Usually, they will include all different Video Layouts and several different blocks of content.
Once you apply the Template Layout, you will be redirected to the Global Layout tab where you can make any modifications to the selected layout.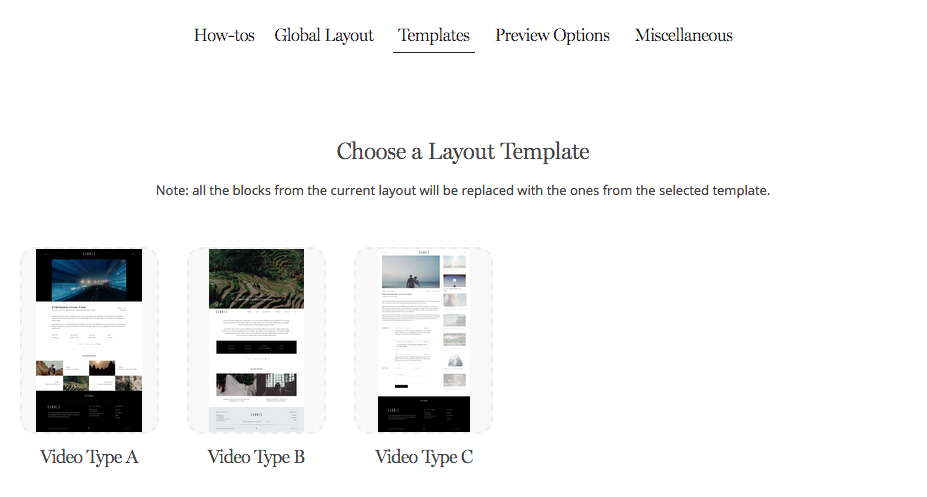 *NOTE Video Posts that are selected as "custom" within the back-end will not inherit the Global Layout settings.
Global Layout
By default, the Global Layout contains one of the Templates selected earlier in the Layouts tab.

Here you see the entire Video Post structure, all block of content starting from the header to the footer blocks.
Below we have a short description of the default blocks that may be included in your layout:
Header Placeholder –  includes your website navigation and logo. Having this block allows you to apply a custom header specifically for this Video Post. (e.g. you can apply a more minimal header style to provide more visibility to Video Post content.
(optional) Item Title – one of the blocks that manage how the top of the Video Post looks like. Usually, we add several options here that you can choose between. If you like the whole template that you applied, but you are not happy with the post header area, you can remove the suggested one and apply another one Item Title blocks (for example, the one that doesn't use the image).
WP Content – this area is optional as many Video Posts may use a custom text block. Generally, within Video Posts it is used for text purposes only.
Other blocks may be included depending on the selected layout. Normally these can include Decorative elements or Page Dividers, various Text Blocks, Social Links, Related Posts, etc.
Footer Placeholder – just like the Header Placeholder, allows you to set up a Custom Footer if necessary.
For each content block, you can also change margins/spacing between blocks (for mobile and desktop), font styles and background colors, et.
Once everything is confirmed, click on Update in the top right corner and all Video Post will inherit the chosen layout.
Preview Options
This tab is responsible for how videos will work within listing blocks.
There are 3 different Preview Types:
– Static – videos have a cover image and do not play until clicked on
– Autoplay on Hover – videos are static until hovered over
– Global Autoplay – all videos on the listing page wills start to play

There are also 2 Video Pop-up preview options:
– Boxed
– Pop-up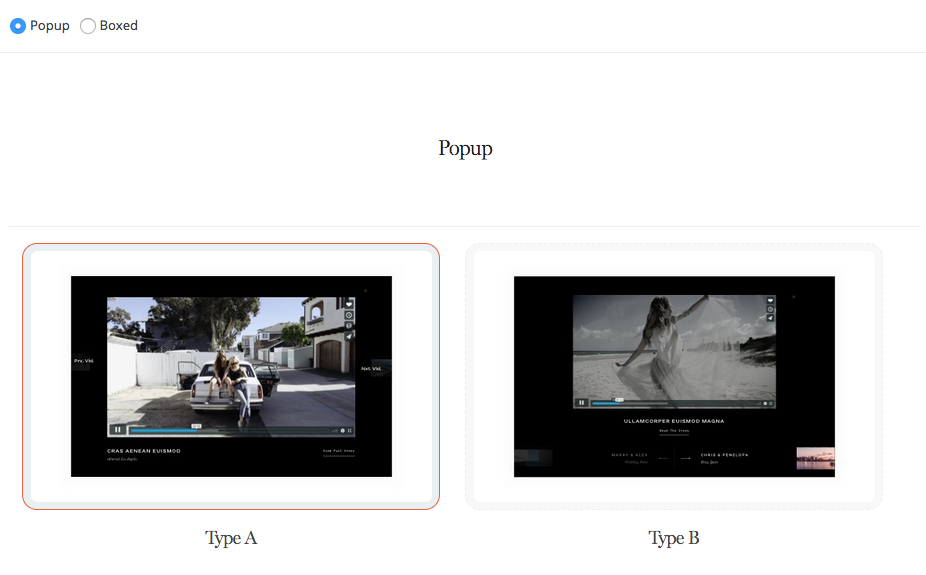 Other standard adjustments such as Fonts, Colors, Styles, etc. are included at the bottom on the page.